The dervishes initially move slowly and circle the track three times. This displacement is the symbol of wandering souls, after the third round, the master takes his place on his mat and the dancers wait.
While the singers sing and stop, the dervishes go with a triumphal gesture, drop their black coat, in order to reveal their white clothing.
The fall of the mantle gives way to an illusion. While the black mantle representing the carnal envelope is abandoned, it is the resurrection.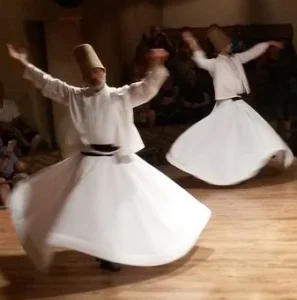 It is necessary to have arms crossed over the chest, hands on shoulders, begin to turn slowly, on themselves and then spread the arms, the right hand turned towards the sky to reap the grace of God and the left hand turned towards the ground to dispense it towards men.
At the same time as they turn on themselves, they turn around the room. This double turn is reminiscent of the law of the universe: man revolves around his center, his heart, and the stars gravitate around the sun. This double cosmic symbolism is the true meaning of Samâ: all creation revolves around a center.
During the Sama sessions, the poems of the Divan and those of the Mathnavi were constantly celebrated and sung. This dance, which symbolizes the swirling of atoms around their center, that is, planets around the sun, does not only have a cosmic meaning. Beyond the limits of time and space, it symbolizes Man's search for his true "I", the Divine Sun.
Many Sufi poets play on this theme: what we see, what we hide, what we discover, what we perceive…
Unlike whirling dervishes, the Sufi music and dance of Iran live the hal without going through a ritualized and scenographed ceremony. The poet Sohravardi in the twelfth century said that "It is dance that is the product of the inner state of the soul; It is not the inner state that is the product of dance. In addition, the visible becomes invisible and vice versa.